Car owners need to have their cars cleaned and landlords need to generate extra revenue from their property portfolios… the simple remedy is to provide a high-quality hand car wash to your customers to earn a guaranteed additional income stream for you, the landlord.
Our clients can choose from a range of income streams from Waves while we install, fund and operate a professional car wash service for their customers; increasing customer loyalty and site visit rates.
Waves is the market leader by volume and reputation
Experience
Directors and leadership team
Retail, car wash and car parks experience
Proven track record
280+ sites
Concept to implementation
Managing a large estate for Tesco
Transition, growth and ongoing management
Capability for growth / fast rollout
Proactive compliance with government / regulatory bodies
Generating loyalty
Customers, suppliers, Franchise Partners and clients
Innovation and re-investment
Innovation and re-investment: Waves constantly re-invests to improve operations and service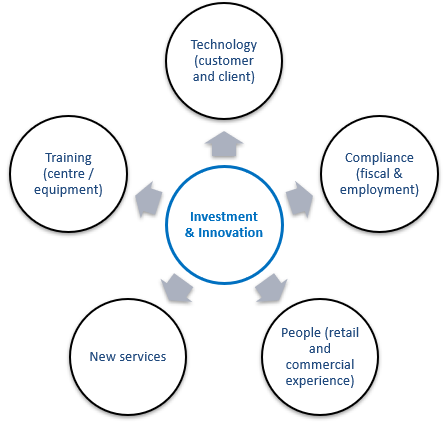 Principal benefits of our purpose-built bespoke web-based system:
Improved customer journey (car ready etc.)
Vehicle security (and insurance)
Clubcard integration
Full reporting for network for Waves and clients
Better financial transparency (to reduce risk of non-compliance - financial and employment)
Compliance summary
We constantly monitor and audit our sites to reassure our Landlords that we strive for compliance in all areas including (but not limited to):
Local Authority Planning – we ensure all consents required are obtained
Health & Safety – we ensure compliance by using COSHH; risk assessments; admin: H&S poster / accident book etc. / winter procedure
Environmental compliance including compliance with PPG13, getting trade effluent discharge licences
Business rates – all sites entered into the VOAs listings
Insurance – Employers Liability – £10 m; Public Liability – £10 m; Motor Trade; Product liability; Material damage etc.
Home Office – monitoring employment compliance (RTW etc.)
HM Revenue & Customs – auditing for worker financial compliance – PAYE; VAT etc.
Gangmasters Licensing Authority - prevention of labour exploitation / modern day slavery
Waves processes include:
Training
Bespoke IT systems

Booking in cars
Administration and reporting database
Employment compliance database
Customer app

Mentoring
Auditing
Mystery shopping
Surveillance and CCTV
Enforcement
How could Waves work for you?
In short, you don't need to do very much...
Waves surveys your site (free of charge) and if suitable for a car wash, submits a proposal
If you accept the proposal, both parties complete legal paperwork
Waves sets the site up (obtaining necessary compliance etc.)
Waves operates the site (including marketing, recruitment, training etc.)
Waves pays you a commercial fee
You receive the income directly, every month, by standing order
Waves pays for:
Full site set-up: building works, equipment, utility connections etc.
Car wash equipment, consumables and detergents
Compliance: planning; environmental; health & safety; insurance
Recruitment and training
Marketing
Uniforms
Administration packs
Our legal costs
You, the landlord, pays for your legal costs, and that's it!
Please contact us for more information or to arrange a free survey of your property.